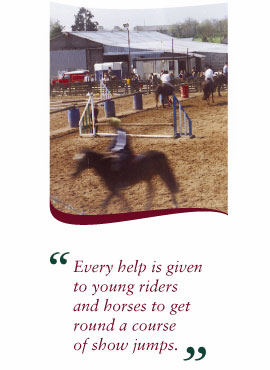 Show Jumping is a speciality at Lime Park - we hold shows periodically indoors from November through to March and outdoors from April through to October (weather permitting!)

Our Training Shows for horses and ponies are the most popular with every help being given to young riders and horses to get round a course of show jumps. Training Shows are informal and although SJAI rules apply, you get to finish your round of jumping, even if eliminated.

A few Show Jumping Association of Ireland (SJAI) shows are held outdoors for those with registered horses. The owners and riders enjoy the surroundings of the grass arenas, while the main arena has a purpose built water jump and is fully equipped with a course of brightly painted, interesting and different jumps. The outdoor facilities have separate car parking, toilets, PA system, judges box, practice arena and catering area, and have been built to meet the most exacting safety standards,

Registered course builders design all of our courses.